Offer for AICOK Silent cold juice extractor. Available on Amazon you can buy it with one discount equal to 27,65 € entering the following coupon code Checkout.
Features
80 RPM Slow Chewing and Grinding - 90% more nutritional growth. Without creating too much heat and friction, it reserves vitamins, enzymes, minerals, traces of minerals and nutrients. Less foam and no clogging.
UPGRADE SPIRAL PLANT - 7-segment spiral that opens each cell for maximum juice yield, Compared to centrifuges, Aicok cold juice extractor can squeeze more juice, reduce oxidation and foam as much as possible, provide more nutrition.
HEALTHY AND SILENT - Works less than 60 decibels, safe PMMA material. compared to vertical juicer, it is easier to clean, assemble and disassemble. it has a brush to brush the filter, and dishwasher safe parts make cleaning a breeze. A sturdy and durable body allows you to enjoy a peaceful life.
PRACTICAL AND EASY - Perfectly separates pomace from juice and extracts nutrients from fruit and vegetables into juice. Enjoy the pleasure of less pulp. In case of capping, simply press the button and this centrifuge works in the opposite direction to prevent the product from getting blocked The push rod promotes the entry of fruit and effectively prevents clogging.
3 Year Warranty - Citrus juicer with advanced technology, CE, GS certification. We provide technical advice and customer service for a lifetime.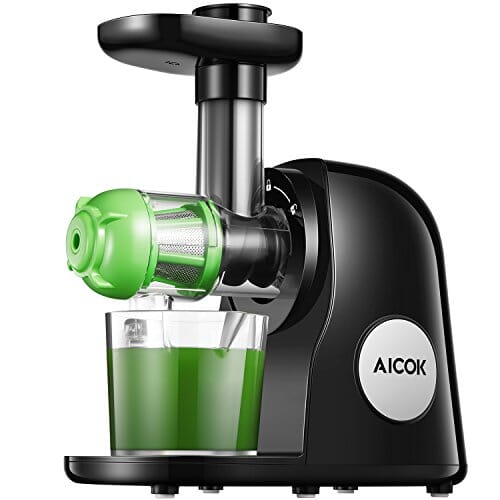 AICOK 51,34 € Cold Juice Extractor with coupon