It is a more unique than rare device, Aipower W20 is a fitness tracker with 2 Bluetooth 5.0 headsets included. Ideal for sports thanks to the pedometer, heart rate monitor and waterproof IPX6. On the touch display of the smartband it is possible to show the notifications of our smartphone, incoming calls and manage music thanks to 5,5 hours of autonomy.
Aipower W20 is now in super offer at half price on Amazon thanks to a discount code!
Features
【NO EXTRA CHARGING CASES】: Wearbuds are the world's first true wireless HiFi earphones loaded on the wrist. Both earphones can be stored perfectly in the fitness tracking strap, which can also charge the earphones without an additional charging case.
【HIGH FIDELITY SOUND QUALITY】: Wearbuds offers flawless audio streaming with an advanced Qualcomm chipset and Bluetooth 5.0 technology, reproducing booming bass and crisp highs through optimized drivers with graphene.
【FITNESS TRACKER ON THE WRIST】: While listening to music through earphones during workouts, the fitness band on the wrist can simultaneously count your steps and calories burned. You could also monitor your heart rate and sleep patterns with synchronized fitness reports stored in your Aipower app, along with all the other records.
【CALL FREELY WITH EVERY EARBUD】: Wearbuds supports Mono mode, a feature derived from the latest Bluetooth 5.0 technology, which allows you to make quick and easy hands-free phone calls with one or both headsets.
【CONTENT OF THE PACKAGE】: Fully wireless earphones, Versatile fitness strap, 2 × earphones, Magnetic charging cable, Quick start guide.
Aipower W20 Fitness Tracker 2 in 1 with Bluetooth earphones 5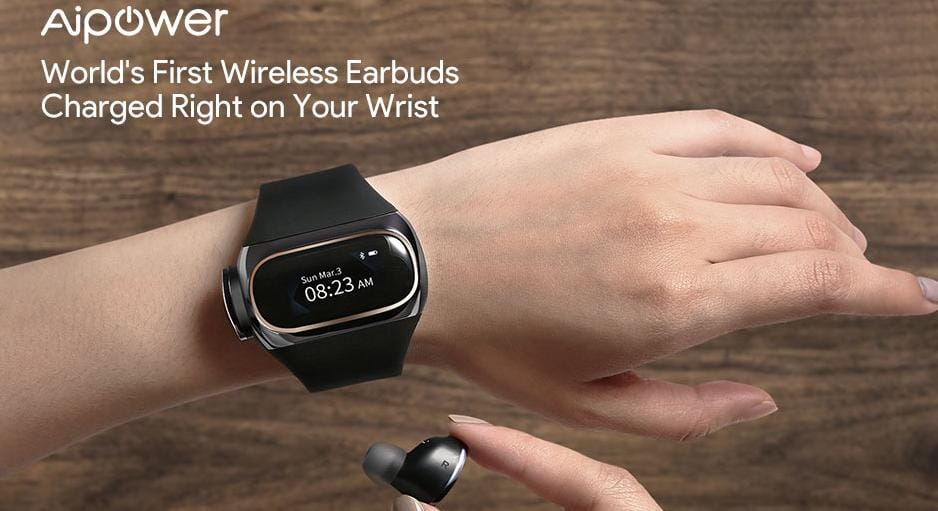 Aipower W20, fitness tracker with earphones at half price on Amazon
Ask us about international distributors
Ask us about international distributors