Super offer for Xiaomi low cost smartwatch in collaboration with Huami: Amazfit Bip Lite with autonomy up to 45 days and low price. Today AliExpress offers it for only 31,6 euros with coupons!
Features
1.Lightweight smartwatch with 45-day battery life: 4.Rhythm the trouble of frequent charging with the incredible 45-day battery life on a single charge to keep up with your busy and active lifestyle
2. 24-hour continuous heart rate: 39.AMAZFIT Bip Lite offers a continuous 24-hour heart rate measurement to get a complete view of heart function day and night. Check your heart rate changes during the day and view your heart rate curve. During exercise, the watch informs you about heart rate zones to optimize your workouts.
3.40.Notifications and alarms: 41. Receive notifications for incoming calls, SMS messages, e-mails and other apps such as Facebook, Instagram, WhatsApp and other mobile apps directly on your wrist to keep you informed during training, without having to extract the phone. 42.You can set up vibration alarm or wake up or remind you about your schedule.
4.31.32g, lightweight is almost imperceptible: 32.Extremely elastic and light strap, AMAZFIT Bip Lite is comfortable to wear day and night, perfect for sports and sleep monitoring. It weighs only 32g (including the strap) which is roughly the equivalent of three cherries.
5. Reflective screen: 34.The reflective color touch screen can be seen clearly even in sunlight, and is very suitable for outdoor sports activities (ordinary display screens become almost black screens with intense light).
Return to index ↑
Price
Currently the best price to buy Amazfit Bip Lite is 31,6 euros thanks to a coupon offered by AliExpress.
Return to index ↑
Amazon
26 January 2021 9: 54
Amazon.it
26 January 2021 9: 54
Amazon.it
Last update: 26 January 2021 9:54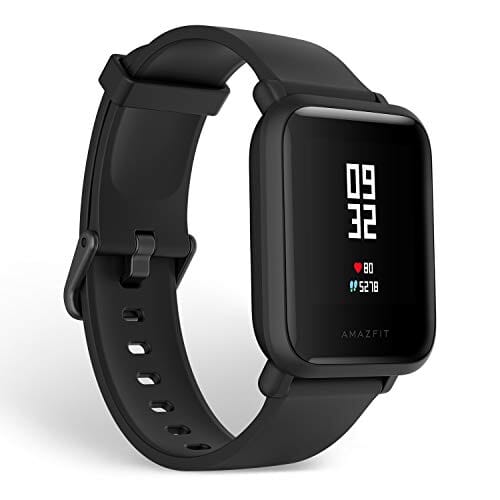 Amazfit Bip Lite in super offer at 31,6 euros with coupon!