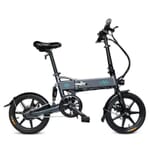 FIIDO D2 coupon: 478 € electric bike with shipping from Europe!
The excellent electric bicycle FIIDO D2 is in super offer thanks to a new one discount, which also includes shipping without additional costs for customs duties.
FIIDO D2 features
The FIIDO D2 electric bicycle is foldable to carry it easily, weighs about 19 kg, including the battery, and can support a maximum weight of 120 kg. The 7.8 Ah battery guarantees an autonomy that goes from the 25 to the 35 km in electric mode, which extend up to about 50 km with mixed electric use and pedals. FIIDO D2 has an aluminum body, is equipped with disc brakes, suspensions and lights.
Wheel dimensions: 16 inches
Bicycle dimensions: open: 130 x 110 cm. Closed: 75 x 65 cm
Weight: 19 kg approx
Rated motor power: 250W
Battery: lithium ions from 7,8 Ah
Charging time: 5 hours
Autonomy: electric: from 25 to 35 km. Electric / pedal: up to 50 km
Max speed: 25 km / h
Maximum load120 kg
Brakes: front and rear disc brake
Return to index ↑
FIIDO D2 price, coupons and offers
The best price to buy FIIDO D2 online is 478 € on Banggood, with free shipping and no additional customs fees. Alternatively, the FIIDO D2S variant with Shimano a gearbox 519 € shipped from Europe
Return to index ↑
FIIDO D2S
FIIDO D2S Shifting Version 7.8Ah
587€